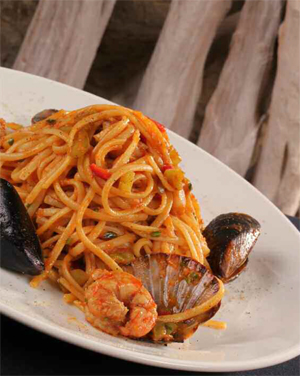 Ingredients:
Linguini pasta 180gr
Shrimps 160gr
Scallops 50gr – 3pcs
Mussels 90gr
Mussel meat 60gr
Meraki Salt 3gr
Black pepper 1gr
Parsley 1gr
Onion 20gr
Garlic 1 clove
Sweet red peppers 40gr
Shrimp broth 200ml
Tomato sauce 50ml
Meraki Olive oil 50gr
Golden Samena white wine 70ml



Directions:
Boil the pasta for 5 minutes. Sauté all the vegetables and seafood in olive oil and deglaze with white wine. Add the shrimp broth and the pasta. Bring the mixture to the boil and add the tomato sauce and right before the end the parsley. The course is ready to be served when the mixture is well blended.