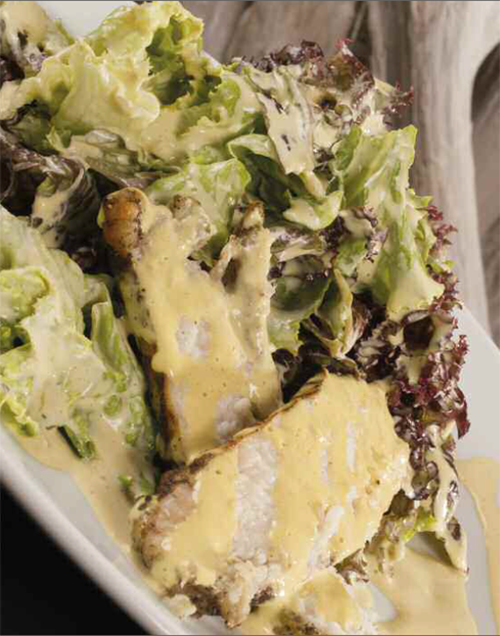 For the anchovy sauce:
Meraki Olive oil 120ml
Sunflower oil 80ml
Yolk 3 pcs
Vinegar 30ml
Soft mustard 35ml
Anchovy fillets 30gr
Soya sauce 10ml
Parmesan 30gr
A little meraki salt – pepper – garlic
For the salad:
Green Lola 100gr
Lola Rosa 70gr
Rocket leaves 50gr.
Monkfish fillets 200gr
Lemon juice 30ml
Meraki Olive oil 50ml
Meraki Salt 1gr
Golden herring eggs 100gr
Directions for the sauce:
Put the anchovy fillets, the mustard in an electric mixer and add the rest of the ingredients slowly as we do the mayonnaise.

Directions for the salad:
Mix all the vegetables with half the olive oil. Marinate the monkfish with the salt, the pepper and the lemon juice, grill it and then place it on top of the vegetables. Finally pour the anchovy sauce over and add the golden herring eggs.