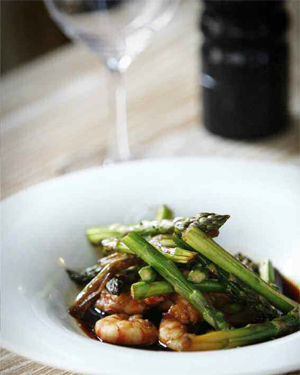 Ingredients:

Green asparaguses 1 bunch
Soya sauce (preferably Kikkoman)
1 small bottle
Butter 30gr
Hazelnut oil 1 bottle
Shrimps 300gr

Directions:

Wash the shrimps really well; remove the intestines and the cut off the heads and tails. In a 25cm frying pan, add enough hazelnut oil to cover the bottom. Peel the asparaguses and cut them in four.
Place them in the frying pan and stir once – twice. Add the shrimps, while turning the heat down. When the asparaguses turn gold, add 30ml of soya sauce.
Bring the mixture to the boil and then remove from heat and add the butter. Stir until it melts and serve.