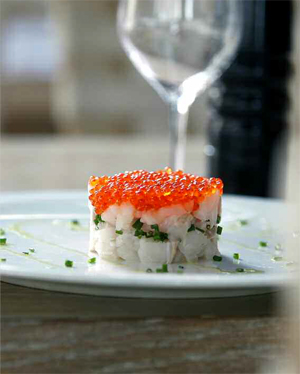 Ingredients:

Trout eggs (found in delis) 1 little jar
1 sea bass 500gr
Chives 1 bunch
Sea salt (as much as needed)
Olive oil 40ml
Juice of 1 lemon


Directions:
Clean and wash the sea bass. With a knife remove the skin, starting from the tail pushing in the opposite direction thus making a fillet.
Then remove the bones and dice the fillet. Put everything in a big bowl and sprinkle with salt.
Mix the olive oil and the lemon juice, and set it aside for about ten minutes on a flat plate. Take a round hoop with a 10cm diameter and
a 5cm height and fill it up to the middle with the diced sea bass. Then spread a thin layer of chives, after cutting it finely, and continue
with the sea bass again.
Finally place a thick layer of trout eggs on top.