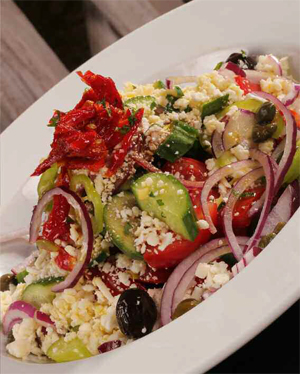 Ingredients:

Cucumber 100gr
Tomato 200gr
Green pepper 70gr
Onion 50gr
Pickled peppers 10gr
Caper 5gr
Sundried tomatoes in oil 30gr
Feta cheese 80gr
Cretan barley rusks 50gr
Parsley 2gr
Salt 1gr
Meraki olive oil 40ml
Greek black cracked olives 30gr
Balsamic vinegar 30ml

Directions:
Arrange the barley rusks at the bottom of the plate. Then mix the rest of the ingredients in a big bowl and place them on top of the rusks. Finally add the grated Feta cheese and the sundried tomatoes on top.