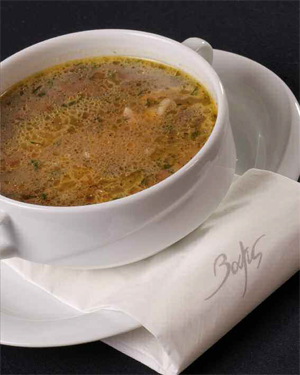 Ingredients:

Campion mushrooms 150gr
Porto Belo mushrooms 50gr
Oyster mushrooms 50gr
Fresh onion 50gr
Red onion 30gr
Garlic oil 2 gr
Olive oil 20gr
Fresh butter 20gr
Fresh lemon juice 10ml
Meraki salt 5gr
Black pepper 3gr
Trikalino fish roe per dish 10gr
Sea bass 500gr
Brandy 40ml
Dill 50gr





Directions:
Peel all the mushrooms, wash well and chop them. Do the same with the onions. Put in a pot oil and butter and sauté the onions. Add the mushrooms and deglaze with brandy. Let the alcohol boil away, supplement with enough water to cover the ingredients and add the lemon and the dill. Clean and wash the sea bass and fillet it. Dice, salt and place it in the pot. Serve the dish adding some Trikanlino fish roe. You can also optionally add some freshly grated green, black and red pepper.