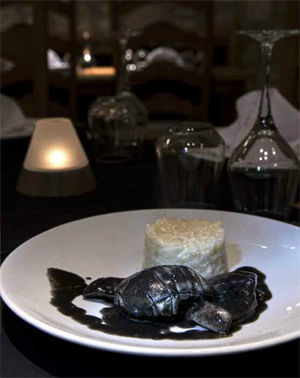 Ingredients:

Fresh cuttlefish 1kilo
Meraki thick salt 30gr
Arborio rice 500gr
Fresh butter 250gr
Fresh pepper

Directions:
Make the risotto as previously instructed. Remove the entrails from the cuttlefish but keep the two ink bags and then wash in plenty of water.

Cut into pieces and boil in a pot with water, the ink and the salt for 45 minutes. Put in a frying pan 30gr of butter, 100gr of risotto and enough water to barely cover the rice.

Use salt and pepper according to taste and serve as in the picture.